Kitting out your kitchen with the latest accessories is an essential if you want to keep up with all the latest cooking trends. With an array of gadgets and gizmos currently flooding the market it can be hard to know where to start. That's why we created our list of the top accessories we feel every 21st century kitchen should have.
Coffee Machine
Stop what you are doing and get rid of the instant coffee from your cupboards immediately! A good coffee machine really is an essential in a modern kitchen. We love De'Longhi's machines. They are more affordable than other machines and make a cracking cup of coffee.
2. A good blender
Blenders are one of the most useful things you can have in your kitchen. Ideal for making soups of smoothies, they just make your life easier. Our favourite is the nutri bullet, which blends your fruits and vegetables down into a smooth, drinkable texture.
3. Spice Lab
Yes you read that correctly and no we are not talking about setting up your own spice making lab in your kitchen. A spice labs is the latest must have for your kitchen. An edgy way to store your spices, not only does a spice lab look cool, it is also very practical and keeps your spices organised.
4. Good Chopping Boards
Chopping boards may seem like an obvious item to have in your kitchen but you would be surprised by the number of kitchens which don't come with a full set. I love this set below as you can easily distinguish which board is for what.
5. Verical Radiator
Despite the fact that kitchens are often the warmest rooms in the home when you are cooking, you don't want to be cold while prepping or eating. Larger kitchens or older properties are likely to feel the cold more. I love this vertical radiator from Trade Radiators which can slot into awkward walls in your kitchen nicely.
6. Electric Tin Opener
Make your life a whole lot easier by investing in an electric tin opener. Electric tin openers are one of those things which seem like a completely pointless investment but once you use it once you will never be able to go back to regular tin openers again. A solid investment which lasts a lifetime.
7. Get Imaginative with Storage Space
If  your kitchen is smaller you need to make sure all space is maximised to it's full potential. Necessary things like boilers can take up valuable space in your kitchen. However these spaces can be transformed into useful storage areas. Take a look at the picture below where a boiler cupboard has been transformed into a useful storage unit. I am a big fan of the site Plumber Parts which has lots of handy DIY tips which are so useful if you know nothing about plumbing or DIY like us.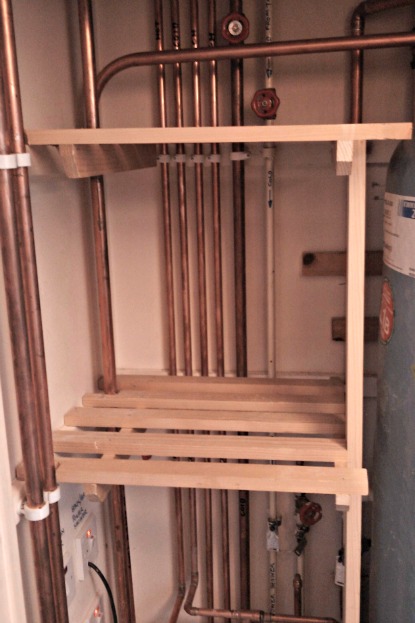 8. KitchenAid
The ultimate tool for your kitchen, all budding bakers should invest in a KitchenAid. One of the more pricey accessories on our list, the kitchenAid will transform the way you cook. From pasta to cakes, this thing can do it all and like most of the accessories on this list, will make your life so much easier.
So there you have it, that is a list of our top accessories for your kitchen. We guarantee all of the above will improve your kitchen or cooking and make your time in the kitchen a whole lot more enjoyable.